HABITAT GLOBAL VILLAGE: SUMMER 2019 STAFF SPOTLIGHT
October 2019
Though Habitat affiliates work independently to address the need for affordable housing in their immediate communities, we are all part of the greater Habitat for Humanity International umbrella that aims to provide everyone with a decent place to live, worldwide. One of the main ways we work to achieve our shared vision is through the Global Village program.
Learn about Habitat International's Global Village program from staff member, Margaret, and AmeriCorps volunteer, Victoria, as they reflect on their builds in Poland and Malawi this past summer:  
Margaret: Poland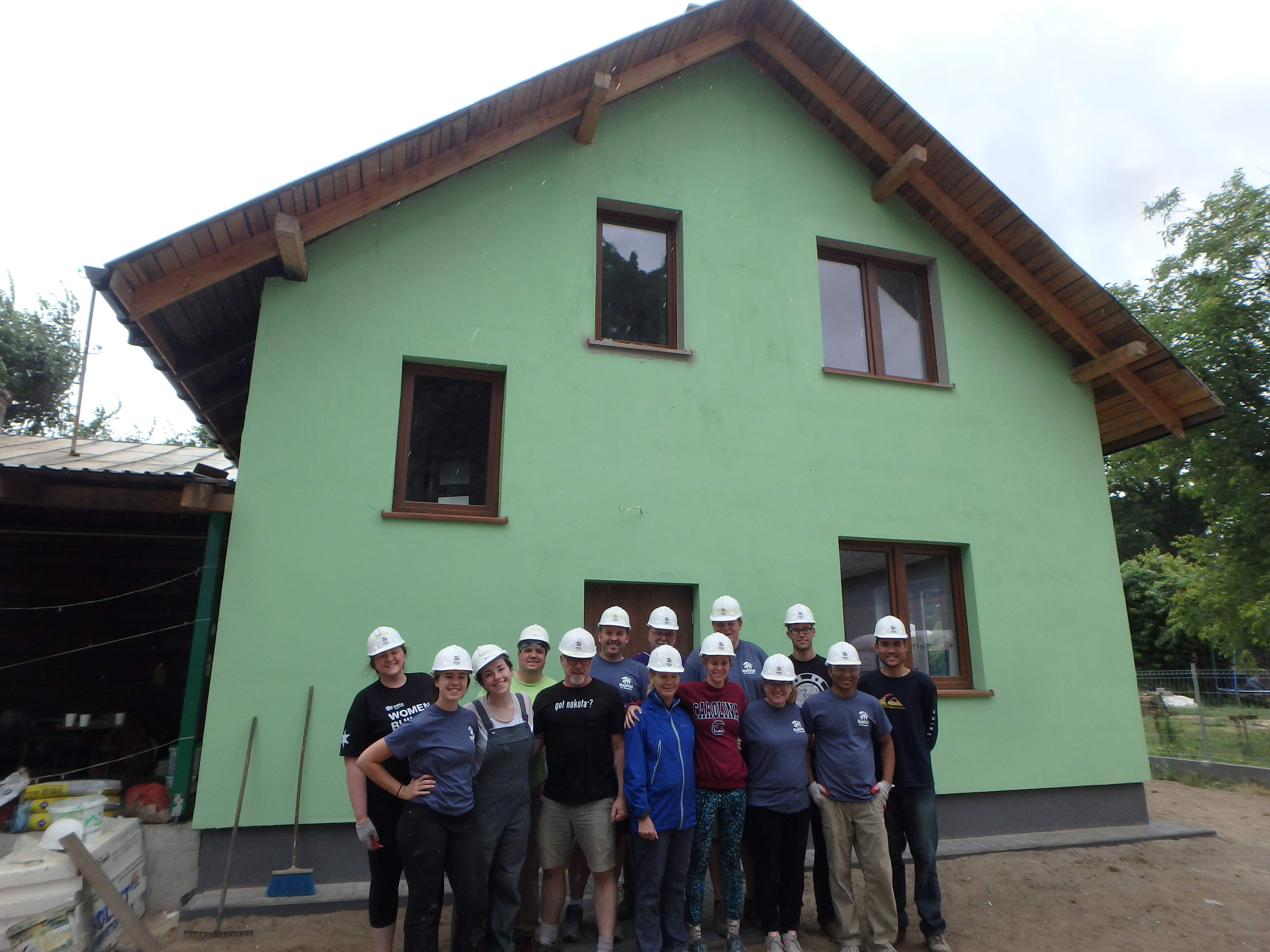 What is Global Village and why is it important?  
>> A Global Village trip is a short-term service trip where you can volunteer abroad or in your home country with Habitat for Humanity. All trips vary based on the country and itinerary, but all of them include a mix of work, rest, and free time. These trips not only utilize your skills to build safe, affordable houses in places around the world, but also give you the opportunity to see another culture up-close and live like a local. Experiencing the world outside of our own everyday surroundings and cities makes us more thoughtful, empathetic, and compassionate citizens.  
Why did you decide to do Global Village?  
>> A few years ago, my brother, husband, and I were looking for a more impactful way to volunteer our time and share our resources. Since we all love to travel internationally together, we researched different international volunteer programs, and Habitat's Global Village stood out among the rest. The program is very professionally planned and coordinated, and from start to finish, the experience has always met or exceeded our expectations. The Global Village Trip Leaders all have their amazing reasons why they lead trips and their passion for Habitat's mission always shines through. As volunteers, the local Habitat affiliate, (and especially the Volunteer Coordinators that are assigned to our team), is always making sure that we are safe, well cared-for, and have an engaging and constructive volunteer experience. The ultimate purpose of Habitat Global Village is to improve the housing conditions of families around the world and provide volunteers with rewarding experiences and cultural exchange opportunities. And that has absolutely been our experience on each of the five trips we have taken in the last four years.  
What did you take away from your trip?  
>> Every time I come back from a Global Village trip, I am always surprised how quickly a group of people can bond over a shared experience, and how we will all be connected for life (especially now in the age of social media, we actually all still keep in touch). My team members, the Habitat affiliate employees and construction contractors, and the homebuyer families we are working with, all share a common bond - we aren't only building homes together, we are building community and hope. 
What was your favorite memory from your trip?  
>> Since our trip was over the Fourth of July, our amazing and thoughtful Habitat Poland Volunteer Coordinator arranged a backyard barbecue for our team, the construction crew, and the homebuyer family. Except the backyard was the family's farm field, the barbecue was a campfire, the hot dogs were kielbasa, and the s'mores were made from biscuit cookies instead of graham crackers. Despite all these little differences, when they asked us how this compared to our 'normal' Independence Day celebrations, we said it was basically the same - celebrating with friends and family with good food, drink, and company!
Learn more about Habitat Poland here. 
Victoria: Malawi 
What is Global Village and why is it important?  
>> I think Margaret said it perfectly - Global Village is an opportunity to volunteer beyond your own backyard and simultaneously immerse yourself in a new culture, helping build affordable homes and support sustainable and thriving communities around the world with Habitat for Humanity. It combines a philanthropic perspective with an adventurous spirit to truly open your eyes to different cultures, needs, and opportunities around the world.  
How is Habitat Chicago's work related to Global Village? 
>> While Habitat Chicago primarily focuses on affordable housing and community development in the city of Chicago, we also work as a part of the international Habitat community. Habitat Malawi has been the tithing partner of Habitat Chicago since 2012!
Why did you decide to do Global Village?  
>> My family and I have participated in a GV build every couple of years for the last decade. Not only has it been a way for us to travel to parts of the world we otherwise wouldn't and share this passion as a family, but it has allowed us to be more than just tourists and experience new countries and cultures in ways we normally wouldn't. Without Global Village, we would not have been able to celebrate European Cup soccer victories in Gliwice, Poland while building a men's shelter alongside its future residents; to eat, drink, and celebrate Pacific Cup Championships with the Fijian national rugby team after playing our own pick-up games with the children in the village; to accumulating 8 passport stamps on an extended build and safari to Zambia, Zimbabwe, Botswana, and South Africa after playing a soccer game with a local club team with the whole 400 person village watching. But even more importantly, I wouldn't have lifelong friendships with fellow volunteers and team leaders or cherished memories sharing in the gift of safe and affordable housing with inspiring families around the world.  
What did you take away from your trip?  
>> What I took away from this trip was the uniqueness of a mother-daughter duo (my mother and me) on a GV team, and how it allowed us to relate to and celebrate other women in the village. The village we were building in had a female chief; our construction site had a female forewoman; and we were building a home for a single mother with two daughters. My mother and I were so fortunate to meet her and learn her story, in particular. With her new home, she can support her daughters' dreams of finishing school and becoming a doctor and a nurse. Being able to share these experiences with my own mother and being able to share that special dynamic with the incredibly strong women we met is indescribable.  
What was your favorite memory from your trip?  
>> While there are so many to choose from, my favorite memories tend to form around the relationships formed with fellow volunteers, the residents of the villages, and especially the children. In Malawi, by the end of the week, the children in the village were making up songs and games with us, and gave hug after hug, high five after high five. One young girl even drew a picture of me, so proud that she could read and write my name. You go on a Global Village build to help construct a home, but the people you meet have just as lasting an impact on you as the houses you are constructing.  
Learn more about Habitat Malawi here. 
If you are interested in participating in a Global Village trip, visit the Global Village website for more information.