West Pullman at a Glance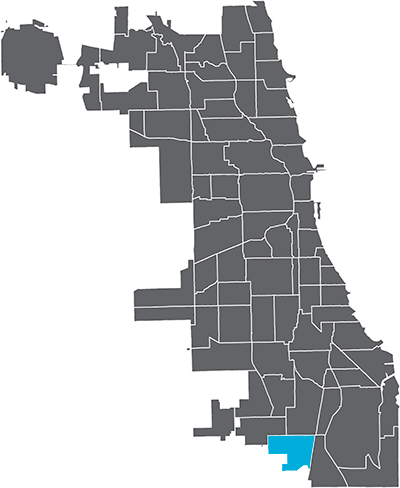 West Pullman is a historic community on the far South Side of Chicago with a long heritage of agriculture, factory production and transportation. The neighborhood's ethnic make-up has changed significantly over time; German, Scandinavian, Italian, Polish, Hungarian, Lithuanian and Armenian immigrants have all called West Pullman home in its history. Today, the community area is approximately 92 percent Black with a median age of 36.7 years old and boasts one of the city's higher homeownership rates at 51 percent. 
Assets
West Pullman is a tightly knit community with many assets that make it a valuable place to live for its proud residents.
Plentiful transportation options, including easy access to Metra, I-57 and I-94

Strong network of block clubs, churches and community groups

Solid, diverse housing stock and an excellent rate of homeownership (50%+)

A selection of eight K-8 schools with performance levels ranging from 1 to 2+ 

City investments in Park Districts programming, walking and biking paths and a public library

$30 million fire station, the city's second largest, set to open in summer of 2021

A new affordable senior housing development at the former site of landmarked West Pullman Elementary School

Recent private investments such as the Salvation Army Kroc Community Center (the largest community center in Illinois!), Exelon Solar Farm (the largest urban solar plant in the U.S!) and Marshfield Plaza (with brand-name shopping options) 
Why West Pullman?
West Pullman is a middle-market neighborhood in Chicago. Its strong homeownership figures, high-quality housing stock and key community assets offer tremendous value to its residents. However, recent disinvestments in residential and commercial properties have made it vulnerable to decline. We have reached a critical investment window for this neighborhood in which targeted improvements could change the trajectory of its prosperity. Waiting to invest in West Pullman threatens the quality of life for its residents, which in turn creates a domino effect of concerns that will necessitate larger, more expensive interventions later. Investments now don't just help stem the risk of decline, but can elevate West Pullman's image altogether and attract the type of activity that solidifies its market and welfare.