At Habitat Chicago, we are not just the builder and seller for our homes, we are also the lender. By taking on all three roles, we can ensure that every Habitat Chicago homeowner accesses an affordable, fixed-rate loan designed for long-term success as a homeowner.
Affordability 
As a qualified homebuyer, your total housing payment at the time of closing (including principal, property taxes, and insurance) will not exceed 30% of your gross monthly income. We ensure this affordability in a few ways: 
We seek available down payment assistance on your behalf 

We subsidize the total costs of home building with our own funds so your share is limited to what you can afford to repay 

We provide loans with fixed, 0% interest rates so you only pay for the subsidized cost of the home for the entire duration of your loan (APR <1%) 
These affordability tactics not only give you monthly affordability but save you a lot of money over time when compared to conventional loans. You can see this in the example loans in the charts below, which compare typical costs of Habitat Chicago loans against a conventional home loan.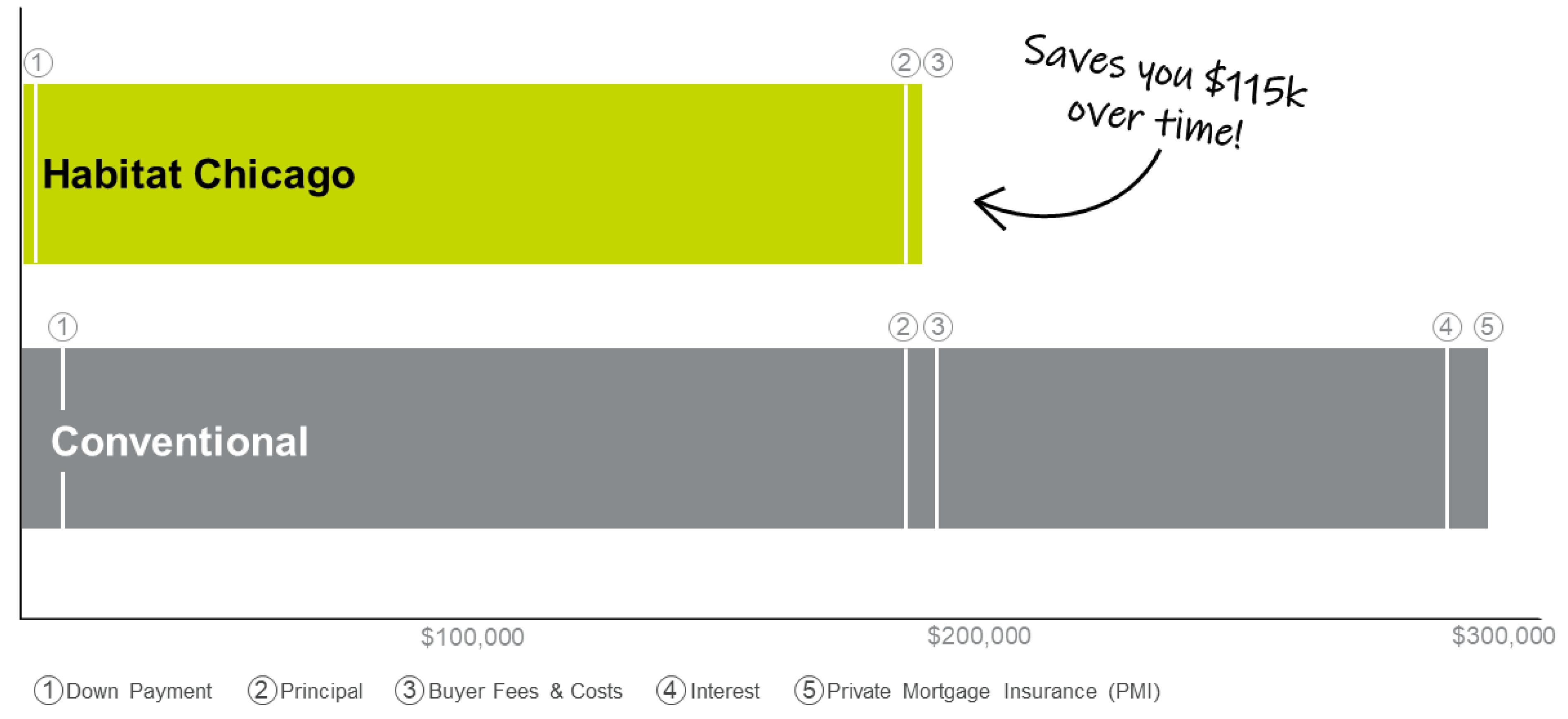 Note: These charts use example figures; actual costs may be higher or lower depending on actual sales price, interest, down payment, etc. and any additional affordability subsidy.       
Anticipated Costs 
It is difficult to know the exact cost of your mortgage payments at the time of your application for the program. This is because you are typically over a year away from closing when you apply to our program, and we can only set the sales price and mortgage amount with updated appraisals and income figures very near to your closing date. At the time of application, our team can help you understand the cost range for your specific situation, even if not the exact payment amounts. At a minimum, your home purchase price will not exceed the Fair Market Value of the home, and your monthly mortgage payment, including property taxes and homeowner's insurance, will not exceed 30% of your gross monthly income at your time of closing.  
Shared Investment 
We think of our home building and lending as a partnership with you, our buyers. We are happy to take on the subsidies of ensuring your home affordability because we want you to be a long-term successful homeowner invested in your community. We believe in the futures of the neighborhoods in which we build homes and hope that you do, too.  
Because of our subsidies and our goals of long-term investments, our mortgages carry with them a Shared Appreciation Agreement to encourage long-term homeownership. This agreement stays in place for half of the term of the loan (e.g., 15 years of a 30-year loan). If you need to sell your home before it ends, any appreciation you realize in the home sale, up to the total costs of our building, is split between you and us, at a diminishing rate. That is, we receive less of the split each year until our share is nothing. 
Third-Party Requirements 
As a special purpose affordability lender and home builder, we participate in certain programs that help keep the homes affordable to qualified buyers and make it possible for us to continue the program. These third-party programs sometimes come with requirements that are in addition to our typical loan or program requirements. We want to be transparent with you about these requirements so you can ask questions and have the opportunity to understand their scope early on. The requirements vary from home to home, depending on things like how we acquire the land or what grants we secure on what timeline. You will find third-party requirements specific to each home listed on the unit's Homes for Sale page. 
Loan Management 
As a lender dedicated to long-term homeownership and affordability, we never sell our loans to outside companies like many conventional lenders might. By holding the loans, we can guarantee that your loan terms stay the same for the duration of your loan. 
We do use a third-party loan servicing company to help us receive and track loan payments. This vendor partnership gives you access to modern services like an online account and multiple payment processing options.  
As a lender, we do expect repayment in full on our loans. However, we understand that the unexpected can happen, and are ready to work with any owner who proactively communicates with us. We can try to seek outside mortgage assistance if available, set up payment plans, or consider forbearance options, depending on a given situation.     
Affordable Homeownership Program Loan Summary 
Next Steps
Ready to learn more? Here are some next steps you can take:
Read the next page in the sequence: 5. Eligibility

Subscribe to receive email updates and reminders about the Affordable Homeownership Program

Register for and attend an information session where you can hear directly from our team and ask any questions you may have